The Tech Stuff – with RSS.com
Podcast News – with Lemonada Media
From Lemonada Media:
Every day, the world seems to be on the brink of crisis. In
In the bubble with Andy Slavitt
When overlapping crises and a relentless news cycle overwhelm Americans, Andy finds the right helpers to help us move forward together.

In
The twenty-minute VC (20VC)
you'll find an interview with Spotify's director of research and development, Gustav Söderström, explaining why creating a product has nothing to do with art. (Ask Jony Ive for an opinion on this).


Bossless with Nina Turner
is new from TYT Network today. "Nina Turner, a progressive arsonist and hellish humanitarian, unites real, ordinary Americans to confront the corrupt forces that seek to keep people in power."

Off Air… with Jane and Fi
is the replacement for BBC's Lucky, as Jane Garvey and Fi Glover moved on to commercial rival Times Radio. This is a new daily podcast recorded as they come out of the radio show.

Wondery's
Suspicious
returns for a new season. Suspect: Missing in the Snow looks into a disappearance in the Rockies. Hosted by former CNN reporter Ashley Fantz, it's an Amazon Music exclusive.

Enjoying nature and escaping to green spaces are an integral part of our modern life. Today more than ever, we understand the need to preserve and protect these places. But what if our love of the earth accidentally does more harm than good? Produced by The Podglomerate,
Trail Weight
returns today for a new season.
Wild Podcast Ads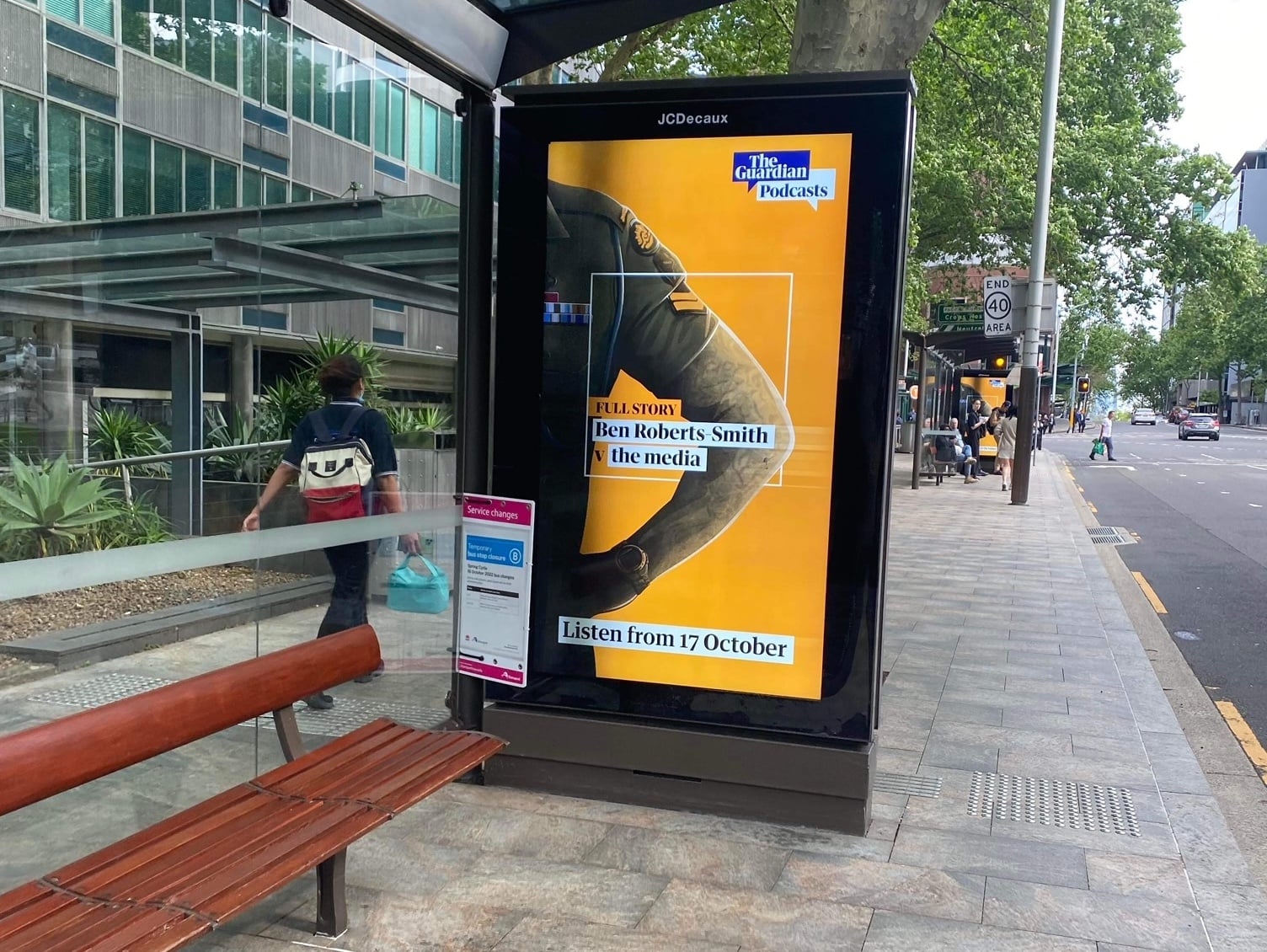 In bus stops in Sydney NSW, Australia (
above, this bus stop
), an advertisement for
Whole story
by The Guardian. The show focuses on Ben Roberts-Smith versus the media, examining why Australia's most decorated living soldier is suing three newspapers for libel over stories he claims falsely accuse him of war crimes. The ads are
also runs at Sydney stations
.